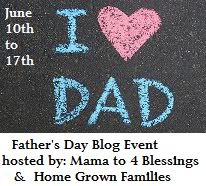 Thank you for stopping by The I  Love Dad –  Father's Day Giveaway Hop Event, hosted by Mama to 4 Blessings and Home Grown Families! This event will take place from June 10th at 12:01am EST to June 17th at 11:59pm EST. For this event we will be celebrating Dads! Which means we will be offering things Dads love for giveaways! After entering my fantstic giveaway be sure to visit each blog from the linky below the Rafflecopter and enter for your chance to win
some really amazing prizes valued at 20+!
Nothing says "summer" to me more than gardening. I love feeling the cool earth between my bare toes,watching the plants unfurl their leaves, seeing the fruits of my labor hanging from the vines, tempting me to reach out and enjoy their goodness. Growing up on a farm, my parents had a five acre garden. Although I didn't particularly enjoy the weeding involved, I loved being able to pick vine ripe cucumbers, squash, and tomatoes.
What the Gardening Kit Should Look Like
These days I live in a subdivision and don't have the luxury of a huge garden, but I do enjoy puttering about my backyard, claiming a small space for my own to grow fresh herbs and a few veggies. This year, thanks to Plow and Hearth, I was able to install a small raised bed with The Square Foot Garden Kit.  It contained a grid designed to divide the space into twelve squares. I carefully and artfully arranged my plants to include family favorites.
The Gardening Kit came ready to assemble and measures sixteen square feet when completed. I had no trouble assembling the sides. The end pieces slide into place on the corner pieces so no tools are required. One quick note-a small package of snaps are included to use on the gardening grids. I didn't realize they were there so I had to hunt for them on the ground after I dumped out the kit.
The Garden Kit is lightweight so I when I decided to move it to a different spot it was easy to carry. A weed resistant cloth is included to place on the bottom of the planter before the soil is added. That's great because I hate weeding.  Next, I snapped the grid pieces together and set them in the bottom of the planter for safe keeping. This is were things begin to go awry.  I didn't have any soil so I decided to wait a few days before I planted my "crop."
I went out of town for a few days and my husband decided to surprise me by planting my garden for me. He dumped the soil on top of the dividing grids, threw away half of my plants thinking they were weeds, and only used part of the space. It was definitely a "surprise." I couldn't say anything because he was so proud of himself. He even greeted me at the door saying, "I planted your garden for you!" Oh, well. It's the thought that counts. I can add some more plants later and dig the grids out this fall to use next year.
The Incorrect Gardening Planter
Win It!
Plow and Hearth has great gifts for Father's Day. One person will receive a $50 Plow and Hearth gift certificate.