The contest is closed. The winner is
Walking around my neighborhood I noticed everyone had switched to their fall decor. I could see fall wreaths, mums, hay bales, and pumpkins everywhere. Having finally gotten my Fall wreath on the door, I wanted to add other decorations in front of my home. I have a row of mums growing along my sidewalk but I needed a little something more. I purchase a couple of pumpkins every year to line my steps, but this year I wanted something that would last. Let's face it, real pumpkins rot and leave gunk on the steps. If we carve them too soon before Halloween, they rot and I have to buy more.
This year I discovered Gemmy, a leader in outdoor Holiday decor. I don't usually decorate a lot for Halloween because I prefer to decorate for Fall. That way I can put up my decorations in September and take them down right after Thanksgiving. I received two pumpkins from Gemmy to add to my decorations. One is nine inches and the other is thirteen inches. I have them sitting side by side and they look like real pumpkins. Sometimes when I am pulling into my driveway I even think, "Who left me some pumpkins on my doorstep?"
For those of you who do more decorating than I do, Gemmy has some amazing Animated Airblowns. My son was extremely upset with me for not getting the Animated Airblown Reaper he had seen in the store and begged me to purchase.
I wanted the Animated Crazy Fast Cat. It's cute. Plus I bet it would be a lot less trouble than my two real ones.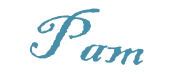 Win It!
One person will win a set of pumpkins from Gemmy.