The Contest is closed. The winner is
I was digging through my son's wardrobe to see if his fall clothing still fit. Of course not. He has grown an inch and a half and dropped twenty pounds. Everything in is closet is either too short, too saggy, or too baggy. He needed clothing to wear to school that maintained the dress code. I decided to surprise him with a custom made, long sleeve tee from Cafe Press.
The process to create a tee is simple. I chose the style, color, and size I wanted. I uploaded a copy of the school seal and placed it in the position I wanted. Voila! Custom T-Shirt finished. I could have added text if I wanted. I was able to finish the entire order in ten minutes. Most items are shipped within twenty four hours of ordering so the shirt arrived a few days later. I did have a couple of problems with the shirt. I ordered the wrong size which was entirely my fault. The other problem was with the transfer process. I noticed the shirt had some peeling along the edge of the clear section where the transfer ended. It disappeared after washing. Had I been dissatisfied, I could have returned it thanks to the 100% satisfaction guarantee.
Has anyone noticed the exciting new change at The Thrifty Things? Over the weekend I was transferred to my own domain. I'm The Thrifty Things. com! In celebration I ordered myself some new business cards from Cafe Press.  A search under the heading computers turned up 1530 cards! I got a kick out of this one. This photo could have easily been taken at my home!
Finally, I settled on a classic design I could create myself. I liked the eye catching design and the cursive script.
Cafe Press has a ton of items I can create and personalize; mugs, posters, stationary, aprons, clothing and more. With Christmas approaching, I can finally find something for those hard to buy for relatives on my list. Even they can't resist personalized items created just for them.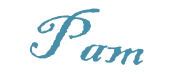 Win It!
One person will receive a $50 gift certificate from Cafe Press to personalize a gift, t-shirt or more.